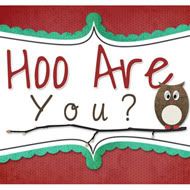 I found this neat weekly "Hoo Are You" post on
Night Owl Crafting
and thought I would participate!
Each week she posts a different set of questions so readers can get to know each blogger better.
Here are this week's questions!
1. What are a couple of your favorite green foods?
This is a tough one..... after years of hating it I now like salad (I know mom, shocks you doesn't it???). I also like avocados but since I got pregnant with Jillian they make my tongue swell.
2. Do you decorate for St. Patrick's Day?
I don't do much St. Patrick's Day decorating but I did make a cute wreath this year, check it out here. It doesn't SCREAM St. Patrick's Day but it's green!
3. Do you have Irish in you?
Honestly, I have no clue!
4. Do you celebrate St. Patrick's Day?
We all wear something green and I try and do something fun for Jillian but we don't do anything over the top for St. Patrick's Day. I'm sad to say I didn't even make Jillian a shirt, she'll have to wear her Old Navy St. Patrick's Day shirt from last year.
5.Use one word that represents each letter in the word LUCK in your life!