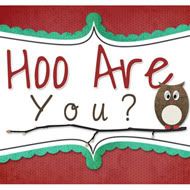 1. What is your favorite magazine?
That really depends on the mood I am in but when my Family Fun magazine comes in I always sit right down and read the whole thing!
2. What color are your eyes?
3. Do you go to the dentist on a regular 6 month schedule, or do you put it off?
I HATE going to the dentist and I put it off. I am actually WAY over due to go now!
4. Do you use anything to make your house smell good?
I am a Yankee Candle girl! I love my house to smell like their Sugar Cookie candle!
Yep! We have a dog, Lexi, she is a 5 year old yorkie, daschund, chihuahua mix. Two cats that are almost two, Ariel and Triton, we just adopted them in November. We also have 3 aquiriums (1 salt water, 2 fresh water).